<< Back
Oven Baked Ribs
These ribs are so easy — all you need is a little time. We bake the ribs before adding any sauce, once baked you can brush on your favorite barbecue sauce or make our sweet and spicy sauce.
You Will Need
Oven Baked Ribs
2 to 2 1/2 lb baby back pork ribs
Salt and black pepper
If you want to make your own sauce:
Sweet and Spicy Barbecue Sauce
1 tablespoon olive oil
1/4 cup finely diced red onion
1/2 teaspoon ground cumin
1/2 cup ketchup
1 tablespoon hot chili sauce (suggestion Sriracha)
2 tablespoons light brown sugar
1 tablespoon apple cider vinegar
salt and ground pepper to season
For the most tender ribs, we like to remove the thin membrane covering the rack. It can be a bit tough when cooked and since we really love ribs that literally fall of the bone, the membrane has to go.
To remove it, use a butter knife to gently slide under the membrane then using your fingers pull the membrane away from the bones. If slippery or difficult to remove, use a kitchen towel to take hold of it and pull.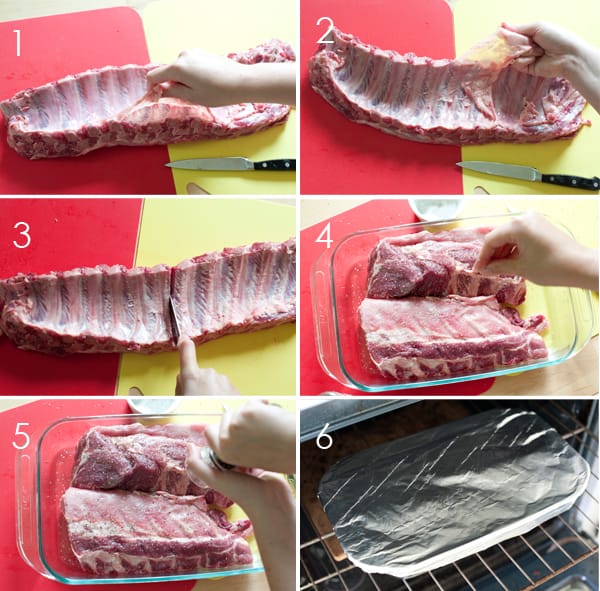 Then, all you need to do is season both sides with salt and pepper and cover with aluminum foil. Slide the ribs into a 275 degree F oven for 3 1/2 to 4 hours and you're done.
Simple, right?
Remove the baked ribs from the oven, discard the aluminum foil and generously brush with sauce on both sides. Then, for an added touch, caramelize the sauce just slightly by sliding the oven baked ribs under the broiler for a few minutes.
http://www.inspiredtaste.net/7179/sweet-and-spicy-oven-baked-ribs/